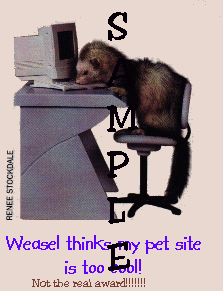 Do you have a really cool pet site that you have put a lot of work into? Do you want some kind of recognition for it? Would you like an award for all your work? Well, apply for Weasel's cool pet site award!
Guidelines:

Must be pet related
Broken links are just annoying
A page of only links does not win awards
Family friendly
NO XXX!!
If you have direct links to adult sites, don't bother applying
A page of pictures of your pet may be neat, but I would like to learn about them too
How to apply:
You can click here for the form
OR
Email me with this info

URL of site you are nominating
Name of Site
Your name and/or name of site owner
A short description of the site
If the site is not your's, do you want to remain anonymous?
If the site is your's, do you want to download the award and link it yourself or shall I send you the HTML for a link?
If your site qualifies for the award, I will email you within a week (or 6) to let you know. If not, you wont get an email.
One more thing, if I ever find out that you stole this award, I know what news groups are, I know how to make a HUGE page about what a snake in the grass you are, and I know how to make your name mud. Even your mother won't admit to knowing you when I have finished with you. And having said that, I wish you the best of luck, and look forward to your submissions! :-)
Weasel